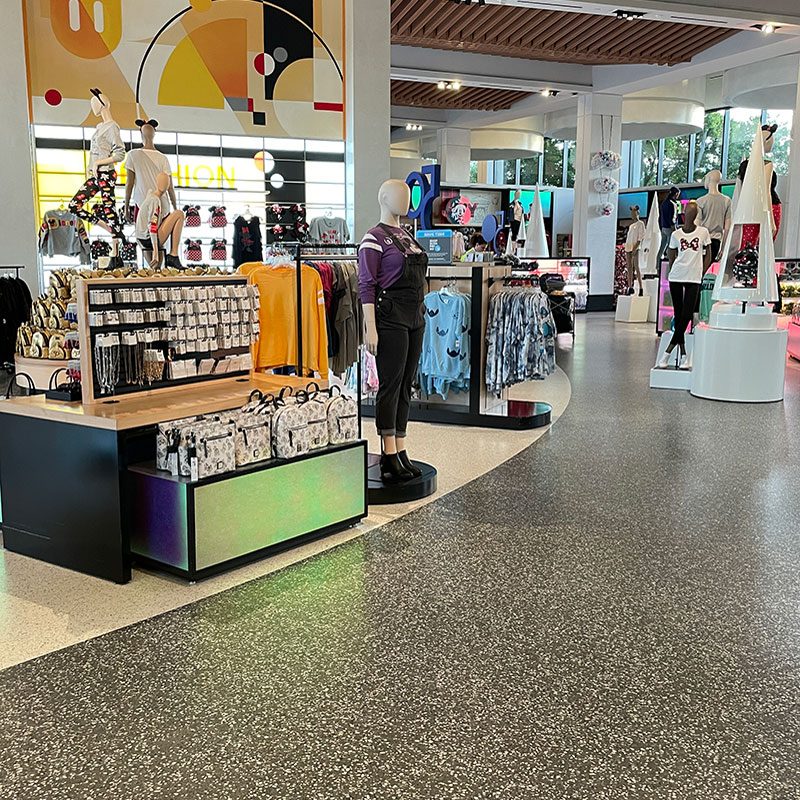 A sustainable, seamless and flexible terrazzo flooring made up of rapidly renewable resources that are free of ortho-phthalates, chlorine and solvents. Durabella has exceptional characteristics in appearance, aesthetics and durability – a decorative floor finish, with endless customizable designs including logos, unique patterns and intricate designs. The overall constriction is not vastly different from that of traditional Terrazzo, though the ingredient makeup is very different.

Durabella is extremely durable and perfect for any high traffic area such as hospitals, airports, theme parks, schools, etc. Our terrazzo does not use epoxy or any harsh chemicals during the installation process. The product is also resistant to water, preventing microbial growth and mold – one of the many reasons it is a great fit for healthcare facilities and any shared public spaces dedicated to creating healthy spaces.
Durabella Biopolymer is made from vegetable oil and is red list free, as well as, Breeam and Leed Certified. Design a custom terrazzo floor that will stand the test of time and reduce your environmental footprint with Durabella.
Extremely durability
Long life cycle
Low maintenance
Custom design versatility
Zero VOC content with epoxy resin terrazzo
Improved indoor air quality
Resistance to microbial growth, moisture and mold
LEED Certified
BREEAM Certified
RED LIST FREE